Rarescale Summer School
November 10, 2016 in All Opportunities, Composers, electroacoustic, Performers, residencey and summerschool by mwhiteside
rarescale Summer School for composers and flute players
Monday 31st July – Saturday 5th August 2017
Harlaxton Manor, near Grantham, Lincolnshire
For further information and to book, please contact us
rarescale's Summer School returns in 2017 in the beautiful venue of Harlaxton Manor, just outside Grantham in Lincolnshire.
Featuring courses for flute players (including the opportunity to specialise on alto or bass flute) and composers, this promises to be an inspiring week with new repertoire, collaborations and the opportunity to work towards individual goals in a relaxed and supportive atmosphere. Flute Course
Tutors: Carla Rees
This course is aimed at undergraduate level performers and above, and is suitable for students, young professionals and advanced amateur players. Minimum recommended standard ABRSM Grade 8.
Learn the techniques of alto and bass flute playing, as well as piccolo and C flute
Discussions on specific technical issues, including extended techniques
Develop your performance skills
Explore solo and ensemble repertoire for all members of the flute family
Individual lessons, masterclasses and flute ensembles
Opportunities for collaborations with composers and other flute players
Introduction to playing music with electronics
Opportunity to perform in an end of course concert
NEW FOR 2017: Flute Retreat
An opportunity for a maximum of two advanced students or early career flute players to prepare for a recorded recital during the course in a personally devised programme of study. Opportunities for composer collaborations and individual tuition. Download the Application Form
Composition Taught Course: Electroacoustic and/or acoustic composition
Tutor: Michael Oliva
Suitable for all standards, including those with no prior experience of EAM composition
Both courses are taught together, allowing composers the flexibility to choose their preferred pathway. To an extent, the course content will be tailor made to suit the needs of the participants, but areas which may be covered include:
Group classes and individual tuition
Compose a piece during the week and perform it in the final concert
Potential to collaborate with flute players and other composers
Electroacoustic course:
Learn the basics of Electroacoustic composition, or refine your skills
Learn field recording techniques, software skills and develop your understanding of EAM compositional techniques
Learn techniques of synthesis, sampling and real-time computer transformations in the context of creating new work
Explore current approaches to working with computer sound and the performance of electroacoustic music
Collecting and working with environmental sound
Developing and writing your own interactive performance software with Max/MSP
Composers should bring a laptop running a standard sequencer programme (e.g. Cubase, Logic or Performer), headphones and any other items required for their compositional activity.
Acoustic course:
Develop your skills in composition, including aspects of structure, instrumentation, harmonic language etc
Opportunity to develop specific knowledge of writing for solo flute and/or flute ensemble (including extended techniques) in collaboration with performers
Opportunity to explore the basics of electroacoustic composition (optional)
Composers should bring a laptop running Sibelius (preferred) or other music notation software, headphones and any other items required for their compositional activity.
Composition retreat
The Composition Retreat offers experienced composers the opportunity to work in the wonderful surroundings of Harlaxton Manor, with support from rarescale course tutors, while maintaining the freedom to work on independent compositional projects.
Open to composers of all disciplines
Come and enjoy the wonderful surroundings of Harlaxton while working on independent compositional projects
Consultations available with rarescale members Carla Rees and Michael Oliva
Potential for collaborations with rarescale and participants of the flute course
The composition retreat also offers full flexibility to attend aspects of the taught courses for flutes and composers (space permitting)
Read about the 2015 course here
Concerts
The course will feature a public concert by rarescale, in addition to a concert by course participants on the final evening.
Dates, Accommodation and Fees
Dates: Monday 31st July to Saturday 5th August (Arrive by 11am on Monday and depart on Saturday after breakfast)
Accommodation is in study bedrooms in the student-style accommodation at Harlaxton Manor. Rooms are allocated on a best available basis and course participants may be asked to share. A surcharge of £75 is payable for anyone wishing to guarantee a single room. All bathroom facilities are shared, and accommodation fees also include all meals. Additional accommodation may be available for the Sunday before the course starts at an additional cost – please ask. If you prefer to stay in one of the local hotels, a non-residential rate is also available.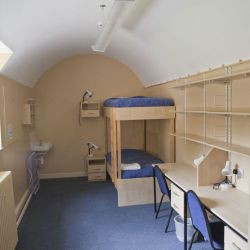 Full Board Fees: £575 (£475 for students)
Single room guarantee £75 supplement
Non residents £375 (including lunch and dinner)
Non-refundable deposit due at time of booking: £275
The remainder of the fees are due by 30th June 2017. All fees are non-refundable after this date, except if the course is cancelled by rarescale.
Bursaries are available to help with course fees: download the application form
For further information, please use the contact form.
Please note that places on all courses are limited, so early booking is advised.